Media Bundle, Buying the Access Code
What You'll Need - A Purchased Code to Unlock the Media Features (video, PDF brochures, coupons/promotions, chat)
1. Purchase the Media Bundle Access Code by clicking the box that says Click To Buy Media Bundle Access Code. You are presented with a three choices: A Media Bundle that includes a 30 second, 60 second, or 180 second - 3 minute infomercial. Go through the online purchase or you can pay by a check. Our online store is secure and also quicker. You will be emailed the code with a purchase receipt.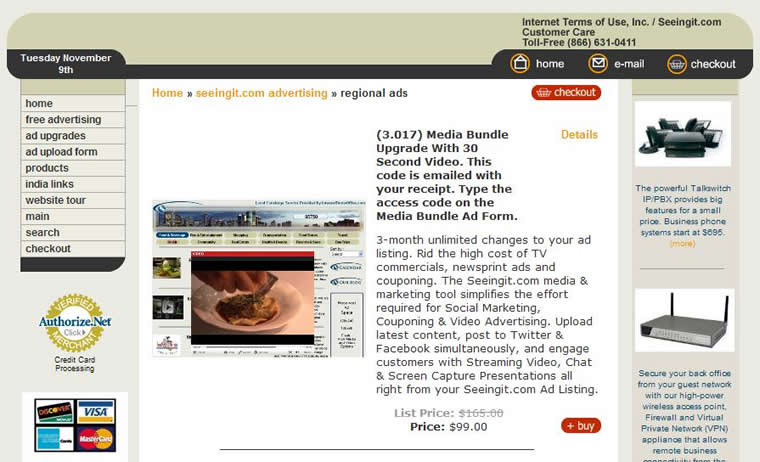 2. Enter the Code in the first box and where indicated.
3. Browse for a Video. Uploading a Video is required to unlock the Ad Form. Cell phone video, camcorder or a professional production is acceptable. If you do not have a video right now, email us and we will send a temporary video.
4.
Click on the Submit Business Listing on the bottom of the Ad Form. Tip: Login later to complete the other elements.
** Note: Do Not Delay, This Form Will Time Out For Security Purposes and Return You to the Login Screen **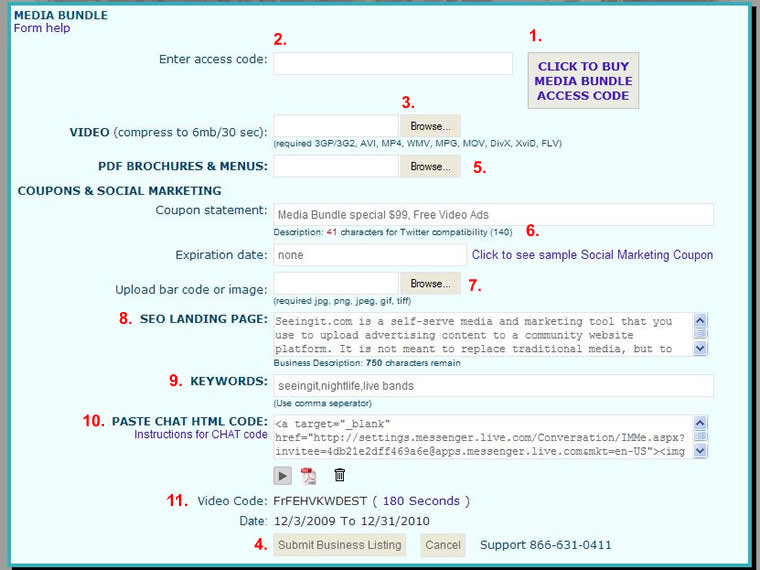 Media Bundle Features
5. Upload brochures, inventories, restaurant menus and weekly features while saving printing & productions costs. The file must be in a PDF format.
6. Printable Coupon, and / or Promotion. What you type, and when you click on Submit Business Listing button, IS ALSO SIMULTANEOUSLY POSTED TO TWITTER & FACEBOOK (twitter.com/BuyLocalNow and facebook.com/BuyLocalNow). Note the countdown? Seeingit.com inputs the data fields: State, City, Business Name, Phone Number, Expiration Date so your promotion is SEARCHABLE on Twitter and Facebook. So, what characters are left, is how many are available for your promotion text. The link, "Click to see sample Social Marketing Coupon" for our example.
7. Browse for the product bar code, or the image of the product you are promoting. This can also be a clip art coupon.
8. Our SEO landing page provides a searchable "Subpage". The Subpage has a copy of your Coupon or Promotion, contact information, a larger 750 character business description box, and 2-links, one to your Ad Listing on Seeingit.com, and one to your website. The SEO landing page URL can be shrunk using tiny URL http://tinyurl.com/ or is.gd http://is.gd/. You use this shrunk URL in your Coupon or Promotion text so you direct Twitter and Facebook Social Media users back your listing on Seeingit.com, and ultimately to your website.
9. Keywords are placed in the html background of your SEO landing subpage. You or a professional Search Engine Optimization company use this feature to draw even more attention to your Seeingit.com listing.
10. We provide an alternate form of consumer communication with your business. Our CHAT feature allows someone to contact you for a simple question, reservation, information on your restaurant or nightclub, or hotel room booking information. The link, "Instructions for CHAT Code" will guide you through the simple process of embedding this code so you can initiate CHAT.
11. A review of your account information is found here (Media Bundle Access Code, the Video length, and Expiration date).
For further Support call toll free 866-631-0411, or Email
Copyright ? 2006-2010 Internet Terms of Use, Inc. All rights reserved. Patent pending
Refund Policy Privacy Policy Careers